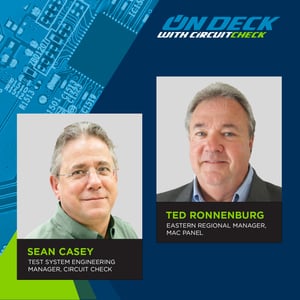 On this episode of On Deck with Circuit Check, we take an in-depth look at when to use a universal test platform. One-to-one device testing can be a laborious time-escalating process, but there are some methods and strategies for testing multiple devices to improve output time. Sean Casey, test systems engineering manager with Circuit Check, and Ted Ronnenburg, senior sales manager with MAC Panel Company, joined host Daniel Litwin for a deep dive on DUTs and when to use a universal test platform.
"For us, a core platform is usually the building block or foundation to create a dedicated or universal tester," Casey said. "The core platform can consist of things like: a rack that's standardized with a PDU and a monitor stand and all the ancillary things that go into creating test platforms, minus the mass interconnect and test equipment." Casey added that having a core platform is a massive advantage.

Dedicated test platforms only utilize the instrumentation needed for specific testing. This type of platform reduces the costs associated with mass interconnects involved with universal platforms. The downside? If a facility only has one dedicated tester and it goes down, the production line can go down, too.

There are many reasons for using one testing platform method over another, but flexibility is one of the most important factors when considering a universal tester. "If you're deploying worldwide and you need to support this platform worldwide, and you're going to have three testers in Asia, three in Mexico, and so forth, it's much easier to support that type of platform with a universal tester," Casey said.

The ultimate decision maker comes down to the testing requirements of the product. "When we work with Circuit Check, we try to determine what the requirements are from the system level, the IO, to suggest and provide the right interface solution to accommodate what's going to be needed and supported in the best way," Ronnenburg said.

Subscribe to the On Deck with Circuit Check podcast