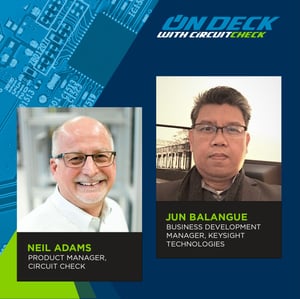 Check out our first podcast episode of On Deck with Circuit Check - Navigating the Transition from VTEP to NanoVTEP. Circuit Check's Neil Adams and Keysight Technologies' Jun Balangue talk about the benefits of using new vectorless test technology - NanoVTEP.

Key points discussed during the podcast include:
* NanoVTEP offers more robust analysis with a smaller footprint in comparison to VTEP testing technology.
* As devices got smaller, the amplifier used in VTEP testing became too big to use.
* Keysight devised a way to test the smaller, less powerful signals emitted by these devices.
Subscribe to the On Deck with Circuit Check podcast