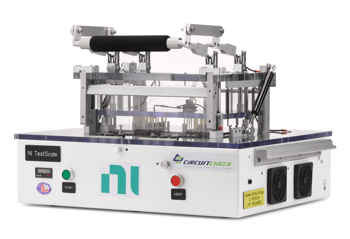 Circuit Check is excited to partner with NI as they launch a new product platform: TestScale. Integrated into Circuit Check's test system, TestScale offers customers a flexible and cost-effective testing solution. This standalone test fixture is portable and requires no external equipment to execute a simple functional test.
TestScale combines I/O and power modules with a lightweight backplane. When combined with Circuit Check's software, and fixture design/replication capabilities, customers can get (for the first time) a small, economical, COTS-based solution optimized for PCBA & device manufacturing.
TestScale Instrumentation provides a cost-accessible, modular, COTS instrumentation solution to manufacturers of electronic devices and sub-assemblies.
Unlike box instrument designs, TestScale's small size and unique design allows for mounting directly inside the test fixture, improving signal quality and reliability..

Unlike custom designed boards, TestScale provides quality in hardware design, maintenance, and software compatibility. This reduces development time and costs while de-risking ongoing maintenance.
TestScale is most differentiated when an "in-fixture" architecture is used. This creates the most cost savings for the customer and makes best use of the design choices made on this form factor. TestScale can be mounted directly to the underside of the interposer board and acts as a standalone functional test fixture.
Click here to learn more about TestScale.
Questions? Click here to connect with an Engineer.