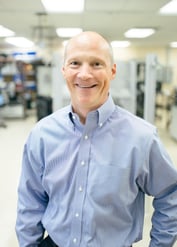 Circuit Check is pleased to announce Chris Scorse as President and CEO of the company effective July 1, 2019. Former President and CEO Greg Michalko will remain with Circuit Check as Executive Director.
Greg Michalko has served as Circuit Check's President and CEO since 2001. Under Michalko's leadership, Circuit Check has experienced substantial growth in revenue, breadth of product offering, and customers served. He has been instrumental in the successful execution and integration of multiple acquisitions as well as the expansion of Circuit Check's presence in North America, Europe, and Asia. Michalko joined Circuit Check in 1981 and throughout his career he has worked in virtually all areas of the business including Production, Engineering, Product Development, and Sales.
"For over 40 years Circuit Check has been a leading edge provider of custom engineered test solutions to the electronics industry." Said Michalko, "Our mission is to provide our customers with innovative solutions that exceed their expectations, by understanding their needs and delivering excellence in design and manufacturing thereby contributing to their success. As the new CEO and president of Circuit Check, I am confident that Chris will continue to lead Circuit Check down this same path of success."
"I am honored to accept this new role at Circuit Check. Greg has done an outstanding job over his career creating an industry leader in electronic test. We have a rich history of creating innovative solutions that solve real world customer issues, and I'm excited to work together with the talented Circuit Check team to realize our next phase of growth and development. The electronic test market is a fast moving industry and Circuit Check is positioned to successfully achieve our goals through innovative designs and customized quality products. We have an extremely bright future ahead of us," said Scorse.
As our Chief Commercial Officer, Chris Scorse started with Circuit Check in 2017. Initially he dedicated the majority of his effort to business development, driving growth for Circuit Check. Over time he has assumed responsibility for other aspects of the business and will transition to the role of CEO on July 1st. Drawing on his experience as a Naval Officer along with his 25 years in the electronic test industry, Scorse is well positioned for success in his new role.