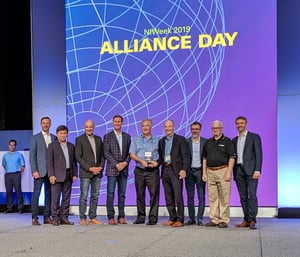 Circuit Check was honored as winner of the 2019 Alliance Partner of the Year – Americas. This award honors NI Alliance Partner companies that exhibit the highest level of excellence, regional leadership, and commitment to mutual NI customer success.

Alliance Day is reserved exclusively for Alliance Partners as part of the 25th annual NIWeek, where thousands of engineers and innovators representing a wide spectrum of industries come to learn about the latest technologies for software-defined systems in automated test and automated measurement. NIWeek 2019 took place May 20-23 at the Austin Convention Center in Austin, Texas, and featured technical sessions and interactive demonstrations and keynotes on emerging trends in science and engineering.

"Our Alliance Partners are an integral part of the NI ecosystem and we're excited to honor Circuit Check for their commitment to ensuring NI customer success in the Americas," commented Armando Valim, Director – Global Partner Program, National Instruments.

"As a Platinum NI Alliance Partner, we are honored to receive this award." said Chris Scorse, Chief Commercial Officer, Circuit Check. "We have enjoyed working with NI for years and this reward validates the mutual customer success our two companies have enabled."

A National Instruments Alliance Partner is a business entity independent from National Instruments and has no agency, partnership or joint-venture relationship with National Instruments.