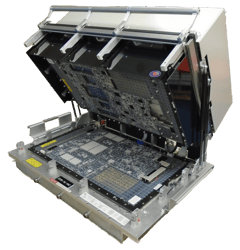 Circuit Check continues to be a leading edge provider of custom engineered test solutions with our new Keysight i3070 HNC test fixture. Working with Keysight Technologies during the development of their HNC adapter in 2011, we were the first test fixture provider to offer customers with a solution to test large node count boards. High node count test fixtures can handle greater than 10,000 probes.
Circuit Check has led the industry in identifying and innovating new technologies and processes to address the ever-changing test requirements. In order to meet the ever-growing demands of the electronic industry, Circuit Check has developed a new Keysight i3070 HNC test fixture.
The new Keysight i3070 HNC test fixture improves on our original design by reducing the size of the T-Board by over 10% without eliminating any technical features. This allows the new Keysight i3070 HNC T-Board to fit standard printed circuit board manufacturing sizes. As a result of the smaller size T-Board, this in turn expands the available suppliers, reduces turn-around time and the overall cost of the test fixture.
The new Keysight i3070 HNC test fixture gives our customers a lower cost opportunity to test their product with a comparable fixture delivery cycle.
The Keysight i3070 HNC tester supports all of the standard 3070 tests including:
Shorts
Open
Vectorless
Cover-Extend Technology
1149.1 and 1149.6
Powered and Unpowered tests
DDR test
Device programming
3070 libraries
Keysight and its Solutions Partners work together to help customers meet their unique challenges, in design, manufacturing, installation or support. To learn more about the program, our partners and solutions go to www.keysight.com/find/solutionspartner. For information on Keysight Technologies' products, applications and services, go to www.keysight.com.