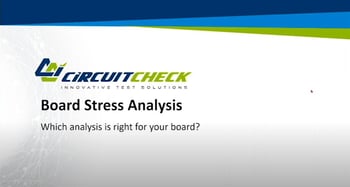 Did you miss our board stress analysis webinar? Interested in watching the recording? Watch the video here on our website.
Presented by: Neil Adams - Neil has over 25 years of experience at Circuit Check as the Product Manager for In-Circuit Test Fixtures Vacuum and In-Line. He has worked with numerous customers in finding a safe solutions to test their PCBA's.
The 1-hour long webinar discussed the differences between our available board flexure processes and discussed which analysis is right for your circuit board. Neil Adams presented the following considerations:
Board flex analysis

Finite element analysis
Strain gauge testing
Attendees learned the importance of FEA & strain gauge analysis, when it is important to consider testing, and which test to consider.