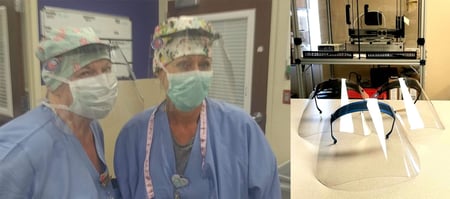 A high demand for face shields led one Circuit Check employee to make use of our 3D printer. R&D Engineer, Mike Ward downloaded an AutoCAD file and began printing face shields for those in the front lines of the COVID pandemic. With the help of others at Circuit Check, Mike has made dozens of face shields for nurses in our local community. Nurses at a local Twin Cities hospital are receiving the face shields and are grateful for the additional protection needed to take care of their patients.
"Thank you so much for the face shields. Healthcare providers are on the front lines every day. The proper equipment enables us to continue to provide excellent patient care, especially during these uncertain times. Your face shields enable us to continue to provide our work by protecting us as healthcare workers, protecting patients, and protecting our families. You will never know how thankful we are for these high-quality face shields. We do hope you make more; doctors and nurses are requesting more. The hard plastic and the comfort is something we have been looking for and you nailed it!! Thank you for your donation." said Tiffany S RN, BSN at a local hospital in the Minneapolis, MN area.
We are grateful we are able to help out during this time of need.