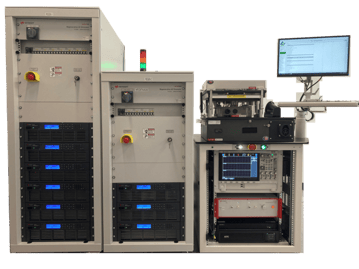 Over the last several years, Circuit Check has partnered with electric vehicle manufacturers to test many components inside and out of electric vehicles. This includes the onboard charger, parking assist and much more. When a renowned automotive company approached Circuit Check to assist with the creation of a test system to test their wall unit for a level two residential solution, the team was up for the challenge.
Mechanical and Electrical Test Challenges Solved
Current reliability was the customers number one mechanical challenge. Since we are testing a ready to ship product, we needed to consider solutions that could handle up to 80 amps. Starting with a signature series fixture, Circuit Check was able to use an over clamp with a push down plate to hold the DUT in place. The pushdown plate feature allows side access to engage a pair of 100A probes. We also used high flex 6AWG wire to hook directly to the probes to carry the EV load. Circuit Check is very familiar with high current probes and DUTs in plastics and the challenges that occur and was able to successfully test the product at the power necessary.

Successful Partnership with Keysight to complete the Test System
To complete the test system, we have partnered with Keysight and are using the SL1200A series which was designed to handle all 3-phase AC test needs up to 1200 VAC, from 30 to 630 kVA without the need for a transformer. This system uses the 600 VAC model which is ideal for EV and EVSE charging test applications, as well as low voltage inverter test.

The Circuit Check Advantage
The fact that this system offers a complete solution both from a charging station (EVSE) standpoint and a vehicle (EV) standpoint, with all the protocols in use available, makes this a good solution for the customer. Whether a customer comes to Circuit Check wanting to test an EVSE for the European market, or a vehicle manufacturer wants us to test a battery charger, we have the necessary hardware and software to get that task done.
Click here, for more information about our automotive expertise.