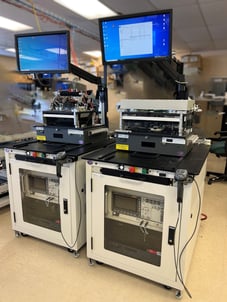 Circuit Check's versatile 1000 Series ATE platform allows a customer to custom build a test system. The 1000 Series uses a modular test rack architecture for ease of maintenance and redeployment as test system needs change.
A custom test fixture is added to the 1000 Series platform to complete the test system. Depending on the customers' needs one might choose the system on the left which is a manual operating test fixture. This system works well in situations when the customer is testing individual boards during development.
The fixture on the right offers a pneumatic testing feature. In the case of the pneumatic fixture, the customer can get through more testing because the process is less labor intensive. A system like this is beneficial for customers who are looking to test larger quantities at one time.
Both tests fixtures use the same 1000 Series ATE platform (14U with keyboard integrated into the rack) to allow for ease of maintenance and expansion. The use of the 1000 Series platform also reduces development costs and manufacturing build time. Circuit Check also offers a 1000 series 15U with a monitor and keyboard as a swing arm.
The Circuit Check 1000 Series ATE provides a configurable standard platform that can utilize multiple mass interconnect interfaces while providing ease of maintenance and the ability to accept a wide variety of test fixture solutions. With the 1000 Series ATE, test procedures become automatic, with test steps and go/no-go limits easily programmable.
The 1000 Series is configurable and interchangeable to meet the customers' needs. Customers are able to customize the equipment and fixture options as needed.
Our test systems are based upon modular technologies to accelerate deployment and enable capital equipment reuse. For over 40 years, Circuit Check is the partner of choice delivering thousands of systems and hundreds of thousands of fixtures worldwide.
Click here, for more information about our 1000 Series Platform and other variations of the 1000 Series.